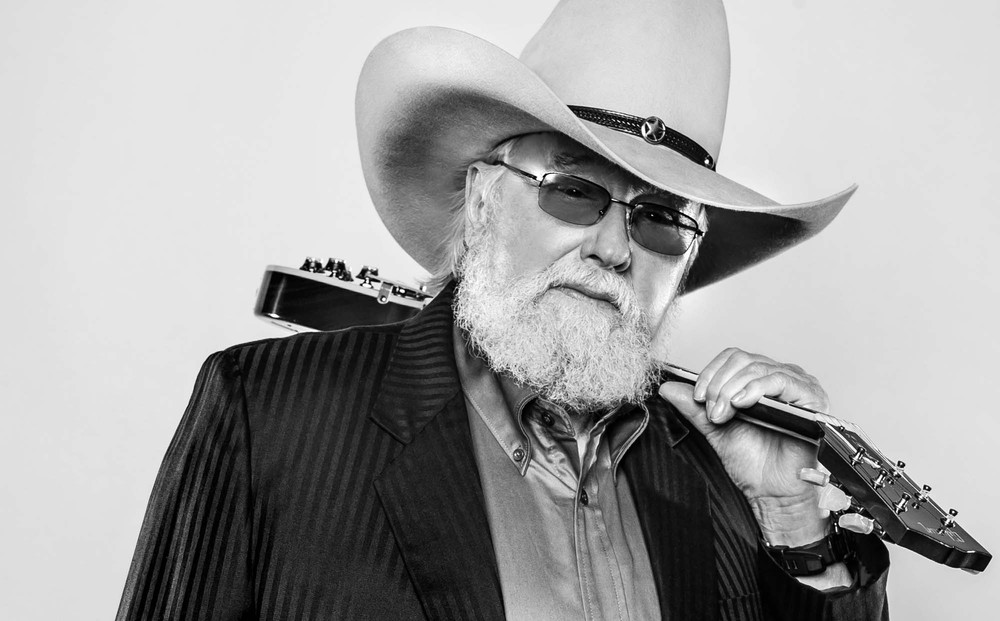 EACC will present the multi-platinum award-winning Charlie Daniels Band, on Saturday, November 4th at 7:30 p.m. at the EACC Fine Arts Center. Tickets go on sale Monday, September 25th at 10:00 a.m. Purchase tickets HERE.
From his Dove Award-winning gospel albums to his genre-defining Southern rock anthems and his CMA Award-winning country hits, few artists have left a more indelible mark on America's musical landscape than Charlie Daniels. An outspoken patriot, beloved mentor to young artists, and still a road warrior at age 80, Charlie has parlayed his passion for music into a multi-platinum career and a platform to support the military, underprivileged children and others in need.
Raised among the longleaf pines of North Carolina, Daniels began his career playing bluegrass music with the Misty Mountain Boys. After moving to Nashville in 1967, he began making a name for himself as a songwriter, session musician, and producer. Elvis Presley recorded a tune Daniels co-wrote titled "It Hurts Me," he played on such landmark albums as Bob Dylan's "Nashville Skyline," and tried his hand at producing on The Youngbloods' "Elephant Mountain" and "Ride the Wind." Daniels' own unique voice as an artist emerged as he recorded his self-titled solo album in 1970 for Capitol Records.
In 1972, he formed the Charlie Daniels Band and the group scored its first hit in the Top 10 with "Uneasy Rider." Since then, the Charlie Daniels Band has populated radio with such memorable hits as "Long Haired Country Boy," "The South's Gonna Do It Again," "In America," "The Legend of Wooley Swamp" and, of course, his signature song, "The Devil Went Down to Georgia," which won a GRAMMY award for Best Country Vocal Performance by a Duo or Group in 1979, as well as the award for Single of the Year at the Country Music Association Awards.
Throughout his career, Charlie Daniels has received numerous accolades including inductions into the Grand Ole Opry, Musicians Hall of Fame, and the Country Music Hall of Fame. He was also presented the Pioneer Award by the Academy of Country Music, was honored as the BMI Icon in recognition of his songwriting, and received a star on the Music City Walk of Fame.
Daniels uses his platform to support the military, underprivileged children and others in need. In addition to his famous Volunteer Jams, which have raised hundreds of thousands of dollars for numerous causes, he has headlined a special concert benefiting the Yellow Ribbon Program which provides scholarships for veterans. In 2014, Charlie Daniels with David Corlew and Joe and Mercedez Longever founded The Journey Home Project to help veterans of the United States Armed Forces. He also lends his time and talent to numerous other charitable organizations, including the Jason Foundation Golf Classic, which targets teen suicide prevention, and the Galilean Children's Home in Liberty, KY, which provides a home for abused and neglected children. He has been the host for The Charlie Daniels Celebrity Golf Classic & Angelus Concert in Hudson, FL, a benefit for The Angelus, a full-time residential facility and day school program for the severely handicapped. He has been a member of the St. Jude Children's Research Hospital Professional Advisory Board and a longtime supporter of the T. J. Martell Foundation and its numerous events aiding cancer research, and he has been the headliner many years for the Christmas 4 Kids concert at the Ryman Auditorium, a fundraiser to provide a happy holiday for needy children.
In addition to releasing 30 studio albums since 1971, Charlie Daniels' newest album "Night Hawk" was released in 2016, and is a reflection of trail stories told by cowboys around the campfire through the years. He has never fit into any certain label, purposely creating a sound and blend of music all his own, and his newest album stays true to that tradition. His autobiography, Never Look at the Empty Seats, will be released on October 24th.
Tickets for the Charlie Daniels Band's performance are $39 and go on sale Monday, September 25th at 10:00 a.m. Purchase tickets online, by calling 870-633-4480, ext. 352, or in person at the Fine Arts Center Ticket Office. Group discounts and season subscription packages are available and save 20%.