The EACC Gallery presents The Whole Ball of Wax, an exhibition by artist Kimberly Shawn. The exhibit will run through Friday, November 10th. The public is invited to meet the artist in the Gallery on Saturday, November 4th at 6:30 p.m. before the Charlie Daniels Band performance in the EACC Fine Arts Center.
A native of Wynne, Kimberly Shawn's The Whole Ball of Wax exhibit includes several styles of her signature encaustic paintings. The artwork pieces are primarily made of beeswax, which is melted before being applied to a wooden panel. The liquid wax is colored with different types of pigment and mixed before and after painting. Shawn's methods of melting wax include using an industrial heat gun, butane torch and propane torch where part of the artwork is set on fire. Transparent layers create extraordinary depth and brilliant color schemes generate a sense of movement which contributes to the uniqueness of each piece.
Several of Kimberly Shawn's collections are included in The Whole Ball of Wax exhibit. Her exclusive "Curve" collection is a new style of panel, handcrafted by carpenter Sean Clark and tailored to specifications showcasing a curved face. The panel frame is stained and finished by artist Kimberly Shawn, and then an encaustic gesso is applied before the waxing. The finished curved artwork is highly textured with layers of wax and additives.
Shawn's newest style, the "Antiqued Collection," is also included in the exhibit and is primarily textured works of barb wire fences and rustic scenes. In some areas of the pieces, the wax is cut and pigment is worked into the grooves, creating a realistic wood texture. The panels in this collection are distressed with a look of old barn wood edging.
Also included in the exhibit are pieces from the artist's "Aqua Collection," "Amber Collection," and "Untamed." The "Aqua Collection" is a study of water, the "Amber Collection" offers red and gold hues that are swirled to create a hot lava appearance, and "Untamed" is a study of abstract wild animal colors and prints. All of the art pieces from the "Aqua Collection," "Amber Collection," and "Untamed" include finished stained frame edges and range in size from six to sixty inches in width.
Artist Kimberly Shawn credits her mother, Carol Brown, for her creativity. Shawn received her first easel at the age of three, and her mother encouraged her to experiment with all forms of art and creative outlets, including art and music lessons before the age of ten. She is a former art student of Gaye Kittrell, who taught art at Wynne High School. "Mrs. Kittrell has been so important in helping me find my artistic voice," said Shawn. "She challenged me at a young age, and I've continued to search for creative answers in most every aspect of my life," she added. In 1988, Kimberly Shawn was chosen by the Arkansas Governor's School to attend the Visual Arts field of study under artist Ellan McKinsey. After a career in photography, graphic design, and marketing, Shawn is now pursuing her artwork full time. "I've never felt so passionate about my own work until I discovered encaustic painting. It's adventurous and unpredictable sometimes, just like me," she said.
The Kimberly Shawn Studio is located in West Bend, Wisconsin, and she is currently represented by Gallery 223 in Lake Geneva. Her artwork has been featured in various exhibits and her pieces are included in private collections throughout the United States.
The EACC Gallery is located in the Fine Arts Center on EACC's campus. Daily hours for the Gallery are Monday-Thursday from 10:00 a.m. until 4:00 p.m. and Fridays from 10:00 a.m. until 12:00 p.m., or as scheduled for special group tours. There is no charge for admission. For more information, call 870-633-4480, ext. 352.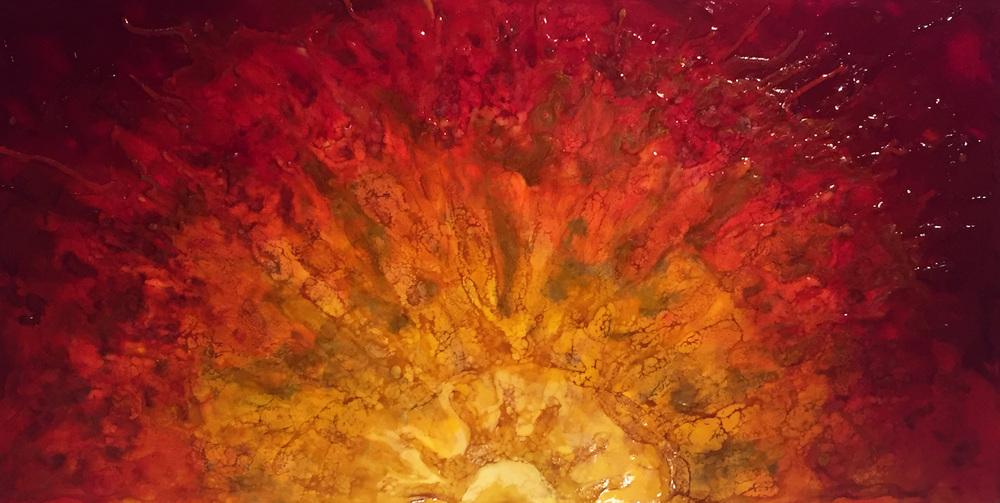 "Curve 1675," Encaustic Bees Wax on Custom Built Curved Wood Panel, 24" X 48"