East Arkansas Community College will now offer a Certificate of Proficiency in Animal Training. The new program will provide basic theory and hands-on training for opportunities in riding and animal training. The Certificate of Proficiency in Animal Training requires a total of nine semester hours of required Animal Training coursework for completion.
The following courses will be offered during the Spring semester. Sherry Rhea of Forrest City will be the instructor.
AGN 1102 Understanding Basic Equine Principles and Techniques
This course will provide a basic introduction to the principles of general horse care, equipment and tack, and horse riding principles and techniques.
AGN 1102 Mondays and Wednesdays 10:00 – 11:00 AM
AGN 2112 Western Riding Techniques II
This course is designed to provide students instruction in advanced western riding techniques and equitation. Students will develop their skills through practical experience and will have individualized equitation lessons in a group setting. The following sections of the Western Riding Techniques II course will be offered this fall.
AGN 2112 01 Mondays and Wednesdays 8:00 – 10:00 AM
AGN 2112 02 Tuesdays and Thursdays 3:30 – 5:30 PM
Instructor Sherry Rhea has over 30 years of experience in education and is a lifelong enthusiast of horses. She currently trains, rides, boards, and conditions horses, teaches riding lessons, and competes in rodeos and barrel races. She has experience in breaking and galloping thoroughbred horses for racing, and has raced quarter horses for a trainer in Oklahoma for many years. Rhea is a member of North East Central Arkansas horse shows where she participates in barrels, poles, western pleasure, and reining. She is the former spokeswoman for Southeastern Circuit for Women's Professional Rodeo Association and presently serves as Barrel Racing Director for the International Professional Rodeo Association.
For more information about the program or to register for this Spring semester's equine courses, call 870-633-4480, ext. 257. Pre-registration is required for all courses. Tuition waivers are available for credit classes for students aged 50+.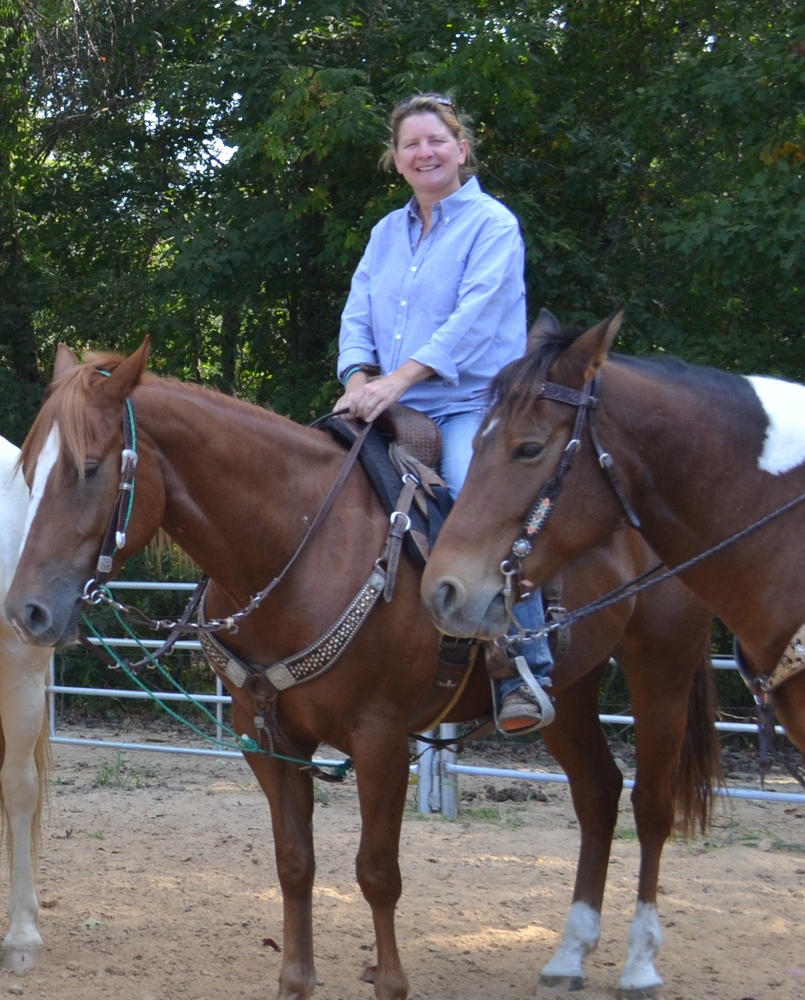 Instructor Sherry Rhea poses for a photo during the Fall semester's Western Riding class.