Alexandria Davis of Marion has been awarded the EACC Foundation's Giny Blankenship Memorial Scholarship for the fall 2023 semester.
The Giny Blankenship Memorial Scholarship was established to assist students seeking an Associate of Applied Science degree in the EACC Nursing Program. The scholarship is presented to a full-time nursing student who is 25 years or older. The student must possess a GPA of 2.8 on all coursework (minimum of 30 college credit hours).
Alexandria Davis is currently enrolled in EACC's Associate of Science in Nursing program. After completing the Registered Nursing program at EACC, she plans to further her education at Arkansas State University to earn a Bachelor of Science in Nursing degree. Her future career plans include working at St. Jude Children's Research Hospital.
"I am thankful to the EACC Foundation for this scholarship," said Davis. "Receiving this scholarship is encouraging to achieve my goals," she added.
The family of Giny Blankenship created the memorial scholarship to help insure others the opportunity to realize their dream of serving others through nursing. Giny Blankenship, a successful cosmetologist, decided to enroll in EACC's Nursing Program at the age of 35. Through hard work and determination, despite working full-time and raising her children, she successfully completed the program.
The EACC Foundation's mission is to generate support and advocacy for East Arkansas Community College in the communities it serves.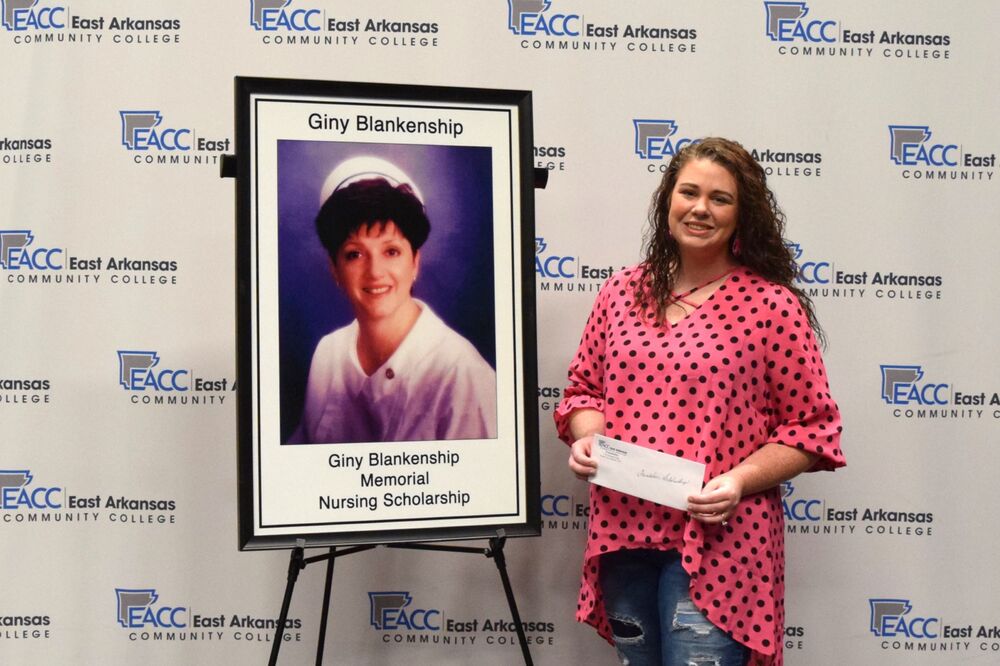 Photo from left: Alexandria Davis, Giny Blankenship Memorial Scholarship recipient