Kierra Fraction of Marianna has been named as the recipient of the EACC Foundation's Coy Grace School to Work Scholarship for fall semester 2023.
Fraction is currently enrolled in the Cosmetology program at EACC. After completing her degree in cosmetology, she plans to continue her education at the University of Central Arkansas to pursue a degree in physical therapy. Her future plans include expanding her career as a hair stylist and eventually becoming a physical therapist.
"I am very thankful for receiving this scholarship," said Fraction. "One day, I hope that I will be able to help students achieve their goals just as the EACC Foundation has helped me," she added.
The Coy Grace School to Work Scholarship is awarded to a full-time student who has completed a program of study in the Eastark Secondary Career Center (ESCC) and/or to a student seeking a certificate or Associate of Applied Science (AAS) degree. The recipient must possess a 2.5 GPA on all coursework.
Established by the EACC Board of Trustees in honor of Dr. Coy Grace's service as president of the college, the vocational scholarship benefits students seeking a certificate or an Associate of Applied Science degree. Dr. Grace has a special affinity for technical education since his father, after returning from war, enrolled in an auto mechanics class at Navarro College in Grace's hometown of Corsicana, Texas. Dr. Grace said, "I realize the positive impact technical programs can have on individuals and their families."
The East Arkansas Community College Foundation is a tax-exempt 501(c) 3 organization that is dedicated to uplifting, enhancing and improving the effectiveness, quality, and scope of East Arkansas Community College through fundraising and other financial support.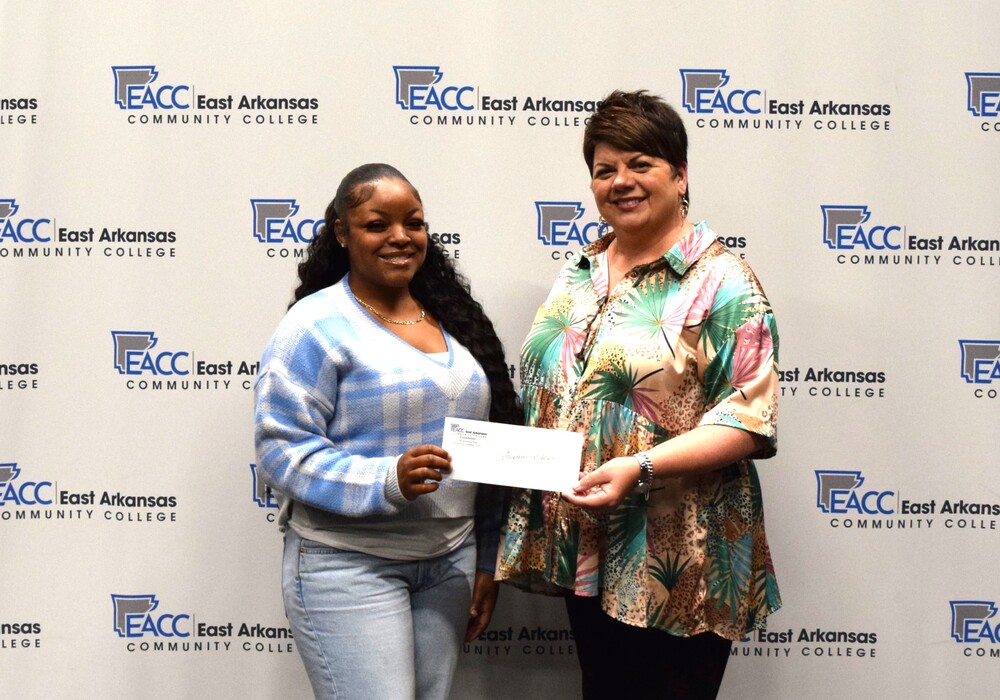 Photo: Kierra Fraction, Coy Grace School to Work Scholarship recipient