EACC, Missoula Children's Theatre, and area children will present Cinderella, an original adaptation of the classic fairy tale, on the stage in the EACC Fine Arts Center on Friday, June 23rd at 6:00 pm.
The play is the culmination of this week's Missoula Children's Theater Camp. The Missoula Children's Theatre (MCT) touring production is complete with costumes, scenery, props and makeup. MCT Tour Actor/Directors conducted rehearsals throughout the week in preparation for the show.
The Cinderella play is an original musical adaptation of the classic fairy tale. A pumpkin coach, Prince Charming, a glass slipper and a dream come true are woven together by the magic of a Fairy Godmother in this enchanting musical. When Cinderella's stepsisters try to keep Cinderella from attending the ball, the Fairy Godmother enlists the help of the Mice and the Pumpkins and is able to transform Cinderella just in time for the big event. Also featured in the production are Cleo the Cat, Fido the Dog, the Lords and Ladies, the Town Criers, the King, and the Beggars. Experience the unique twist the Missoula Children's Theatre puts on this classic story.
The local cast features Hailey Ayala as Cinderella, Maxwell Wilburn as Rags/Prince, Garin Wood as the King, Alice Weaver as Stepmother, Addy Carden as Lovely, and Anna Claire Mosby as Beauty. Isaac Weaver and Micha Benson play the roles of Town Criers. The Beggars will be played by Kori May, Kagan Swift, Tuesday Carroll, and Brooklyn Wearford. The Lords and Ladies will be played by Avery Halbert, Lillian Hennessey, Liam Hennessey, and Jase White. The Mice will be played by Genevieve Graves, Helen Claire Jones, and Stella Kate Northcutt. The Pumpkins will be played by Sadie Grace Northcutt, Sawyer Ramsey, Clark Brasfield, Emma Goff, and Opal Crossway. The Assistant Director will be Trey Thompson.
Tickets for Cinderella can be purchased at the door for $5.00 and seating is general admission. The public is cordially invited to attend. For more information, contact Logan Brasfield at 870-633-4480, ext. 331.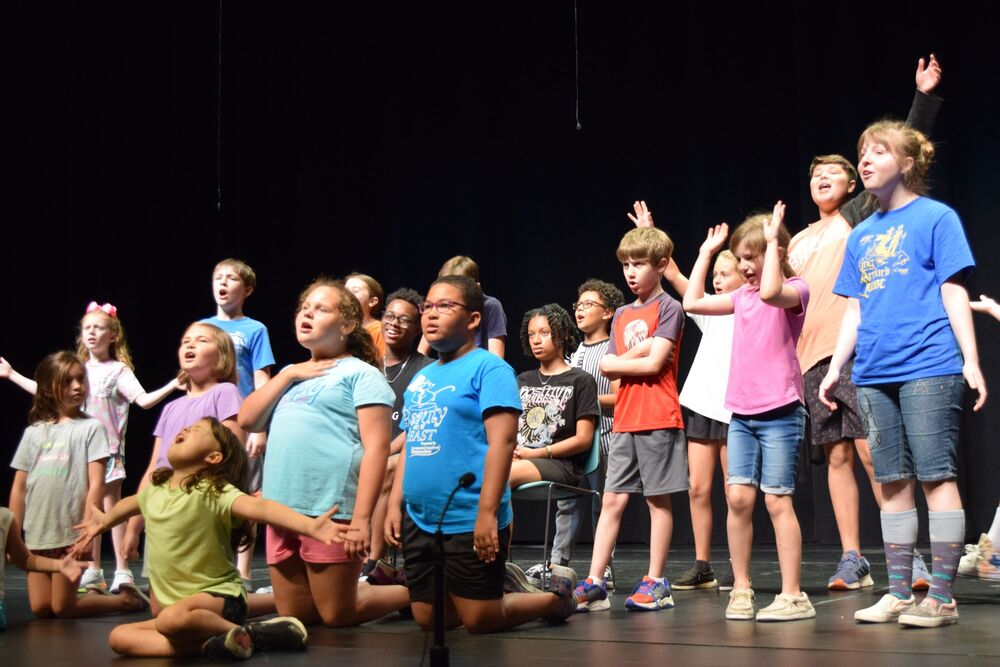 Area children rehearse on stage in the EACC Fine Arts Center during this week's Children's Theater Camp.