The EACC Gallery in Forrest City presents Bearing Witness: The Arkansas Delta in Blue - 2011-2022, an exhibition by artist Beverly Buys of Hot Springs, Arkansas. The exhibit will run through Friday, December 2nd.
A native of Hot Springs, artist Beverly Buys began her career as a public school art teacher. She continued on as a visual arts director and photography instructor at Hot Springs Fine Arts Center before returning to school to study photography. She earned a Master of Arts degree in Photography from the University of Arkansas at Little Rock and a Master of Fine Arts degree in Photography from the University of Memphis. Buys taught photography courses at Henderson State University for 19 years rising in her profession to become a full professor of art until her retirement from HSU in 2014.
Buys has been awarded the Polly Wood Crews Scholarship by the Arkansas State Committee of the National Museum of Women in the Arts, the HSU Ellis College Margin of Excellence Grant, an Arkansas Arts Council Individual Award for her work in photography, and was selected as a Hot Springs National Park Artist in Residence.
Buys has displayed her work in numerous galleries and venues including the William F. Laman Library, Arkansas State University Dean B. Ellis Library in conjunction with the Delta Symposium XXI, Arkansas State University Beebe, Delta Cultural Center in Helena, the Russell Fine Arts Gallery at Henderson State University, and the Rosemary Gossett Adams Gallery at Ouachita Baptist University. In addition, her works have been selected for several juried exhibitions including the Delta National Small Prints Exhibition at the Bradbury Gallery at Arkansas State University and many annual Delta Exhibition shows held at the Arkansas Arts Center in Little Rock.
The EACC Gallery is located at 1700 Newcastle Road in Forrest City. Daily hours for the Gallery are Monday-Friday from 10:00 a.m. until 4:00 p.m., or as scheduled for special group tours. There is no charge for admission.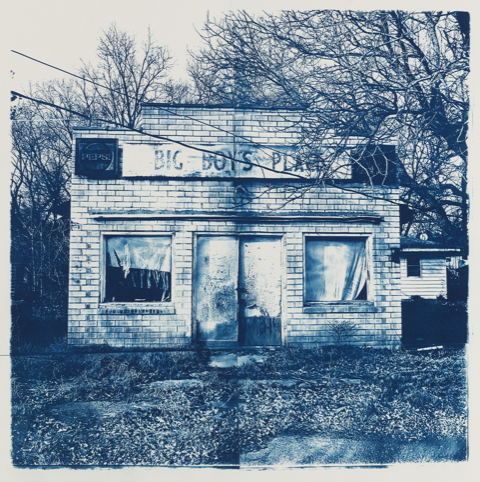 "Big Boys Place," photography/cyanotype, 24"x24"