EACC, Compass Creative Dramatics, and area children will present Compass Creative Dramatics' adaptation of Beauty and the Beast on the main stage in the EACC Fine Arts Center on Friday, June 24th at 6:00 p.m.
The performance will be the culmination of this week's annual Children's Theater Camp. Children will perform alongside two professional Chicago-based actors from Compass Creative Dramatics. During the week-long camp, students in grades 1st - 12th will have learned, played, and performed alongside professional actor/educators who stretched their creativity and bravery muscles, while helping to instill trust, responsibility, teamwork, and empathy.
Audiences of all ages will enjoy this year's performance of Beauty and the Beast. As their beloved books disappear off the shelves, Beauty and her team of local librarians embark on a quest to rescue them from the city sewers. There, they find the Beast and his henchmen searching desperately to cure the curse that has transformed them all into animals of the lowest degree. Amidst dancing pigeons, ticklish books, and enchanted blue roses, Beauty and the Beast learn that it's only by working together that they can save the day
The cast features Maxwell Wilburn as the Beast, Baxley Vaught as Beauty, Tuesday Carroll as Grace, Anna Claire Mosby as Wisdom, and Addy Carden as Kindness. The Books will be played by Nessa Britt, Genevieve Graves, Avery Halbert, Helen Claire Jones, Pasley Kern, and Austin Reed. The Park Rangers will be played by Genta Alsup, Hailey Ayala, Baileigh Brown, Rose Jackson, Kori May, and Lila Weaver. The Rats will be played by Camden Brasfield, Liam Hennessy, Smith Cole, Jase White, and Garin Wood. The Pigeons will be played by Jewels Morphis, Katherine Reed, Kagan Swift, Alice Weaver, Isaac Weaver, Owen Winkler, and Micah Vincent.
Tickets for Beauty and the Beast can be purchased at the door for $5.00 and seating is general admission. The public is cordially invited and encouraged to attend. For more information, contact Logan Brasfield, EACC Director of Community Education, at 870-633-4480, ext. 331.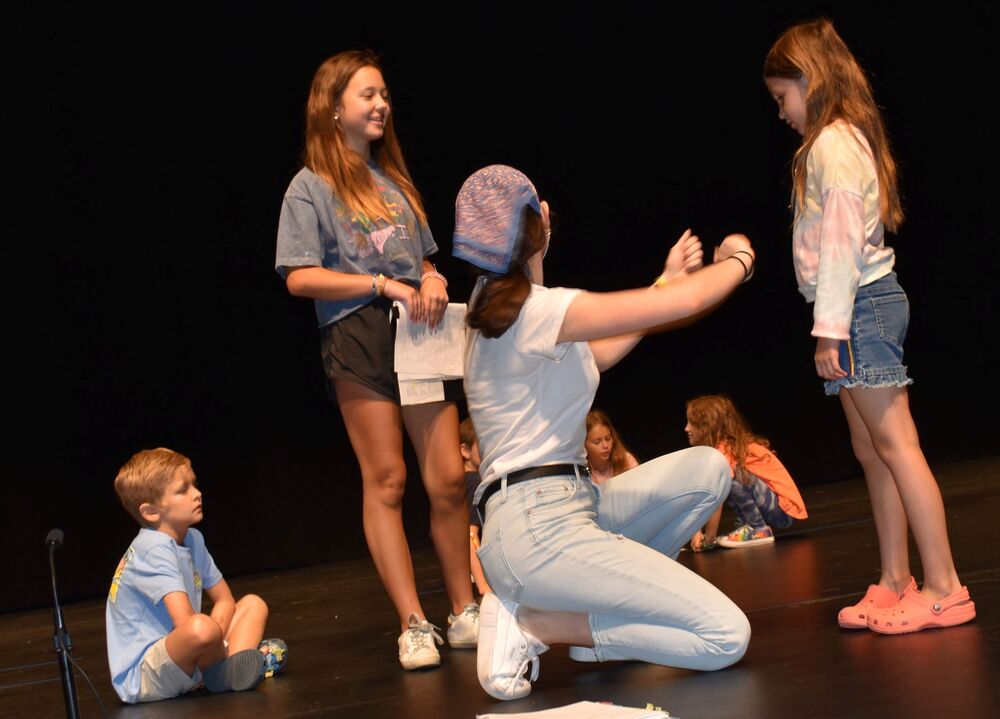 Photo from left: Compass Creative Dramatics instructor (middle) rehearses with Baxley Vaught (standing left), Smith Cole, and Austin Reed (standing right) during this week's Children's Theater Camp.