The EACC Gallery presents Chords of Abstraction, an exhibition by artist George Frederick Nash of Garland, Texas. The exhibit will run through Friday, March 4th.
A native of Dumas, Arkansas, Fred Nash earned a Bachelor of Arts degree from Arkansas Tech University. He owns his own studio practice, "Nash Art and Design Stor," where he designs unique and exclusive merchandise for consumers. He is also a freelance graphic designer.
Nash has always been aware of the beauty of people and at an early age, understood that everyone has a unique quality that should be celebrated. His artwork is presented in fragment form to represent how important everyone is to the mosaic composition of humanity. Creatively, he was influenced by artists such as Andy Warhol, Jacob Lawrence, Jackson Pollock, and Mark Bradford. Nash's work is contemporary, clean, graphic, and textural, and he works with pencil, pen and ink, color pencil, charcoal, print-making, photography, acrylic, mixed-media, digital, clay, and stone mediums.
"The landscape of the human spirit is like a beautiful mosaic. Every fragment is important to the composition of life. Each abstract fragment works together to form a wonderful picture," said Fred Nash.
"My drive as an abstract artist, designer, and poet is to reveal the strength, diversity and character of each fragment. Whether it be the beautiful textures, wonderful figures or breathtaking color, each unique piece is powerful, odious and grand. I'm celebrating the beauty in every fragment," he added.
Nash has achieved recognition as a regional artist with numerous regional and statewide exhibitions including a permanent collection at Mosaic Templers Cultural Center in Little Rock, the Arkansas Arts Council's Small Works on Paper exhibition, and group exhibitions at Gallery 26 in Little Rock, University of Arkansas at Little Rock, Arkansas Tech University, Hot Springs Arts Center, Arkansas River Valley Art Center, and more. His works are also included in private collections and publications.
The EACC Gallery is located at 1700 Newcastle Road in Forrest City. Daily hours for the Gallery are Monday-Thursday from 10:00 a.m. until 4:00 p.m. and Fridays from 10:00 a.m. until 12:00 p.m., or as scheduled for special group tours. There is no charge for admission. For more information, call 870-633-4480, ext. 352.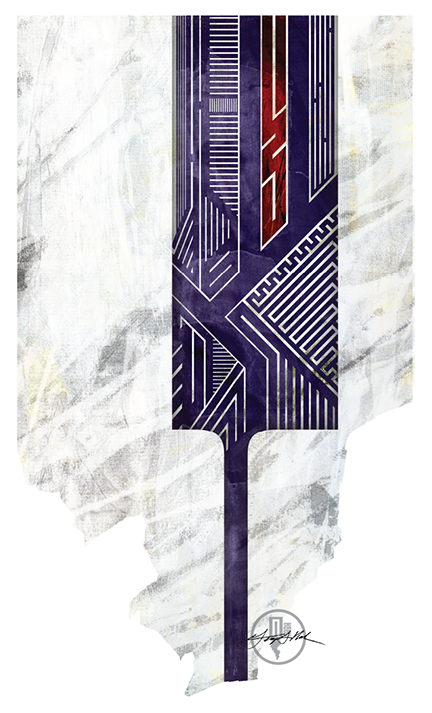 "E Flat Major" Digital Painting, 12.5" x 21"