The EACC Gallery presents The Watercolors of Richard Stephens, an exhibition by artist Richard Stephens of Hot Springs, Arkansas. The exhibit will run through Wednesday, March 31st.
A native of Hot Springs, Arkansas, Richard Stephens earned a Bachelor's degree in Art from the University of Central Arkansas in 1969. After serving in the Army as an Illustrator, Stephens began his professional career in 1971 with a design firm in Little Rock. Three years later, he opened his own graphic design studio in his hometown and continued to provide design and production services for a wide range of commercial accounts.
Stephens was introduced to the medium in college, but re-discovered the transparent watercolor in the early 90's. He quickly garnered a reputation nationwide for his confident, loose, impressionistic paintings.
Although recognized for his landscape, architectural and figurative work Stephens feels the real subjects of most of his paintings are his brushwork and the light he tries to capture and amplify through value contrast and an unexpected color pallet. Believing that drawing is the foundation for all good art and design, Stephens often allows his pencil work to show through and become an engaging element in his watercolors.
"My goal is to interpret, not to render. I want to engage the viewer, entertain and share my vision. When people view my work that is the last step in the painting process. Of course I want people to like my work, but like it or hate it, I don't want them to be indifferent," said Stephens.
Stephens' works have won awards in numerous national competitions and he has earned signature member status in several major Watercolor Societies. In 2005 Watercolor Magic magazine named Stephens one of 10 artists in their annual "One's to Watch" edition. His paintings were selected for inclusion in the 2008, 2012, and 2018 editions of SPLASH, a book published representing the best of watercolor in America.
The Arkansas Arts Council named Stephens the "Individual Artist of the Year" in 2018, and he has been featured in the French publication widely considered the top watercolor publication in the world, The Art of Watercolor, multiple times. For the past 20 years, Stephens has shared his passion for the medium by conducting painting workshops around the country.
"It is the quest for the excitement, that rush, understood only by other artists that have been blessed (or cursed) with the experience, that gives me reason to continue in the elusive process of making art," said Stephens. "Making art certainly means producing my own work, but it also means sharing with my students my knowledge, experience and passion for watercolor. I love to teach. I have discovered that through teaching, more than any other endeavor, I continue to learn," he added.
The EACC Gallery is located at 1700 Newcastle Road in Forrest City. Daily hours for the Gallery are Monday-Friday from 10:00 a.m. until 4:00 p.m. or as scheduled for special group tours. There is no charge for admission. The virtual exhibit of The Watercolors of Richard Stephens is available to view on East Arkansas Community College's YouTube channel. For more information, call 870-633-4480, ext. 352.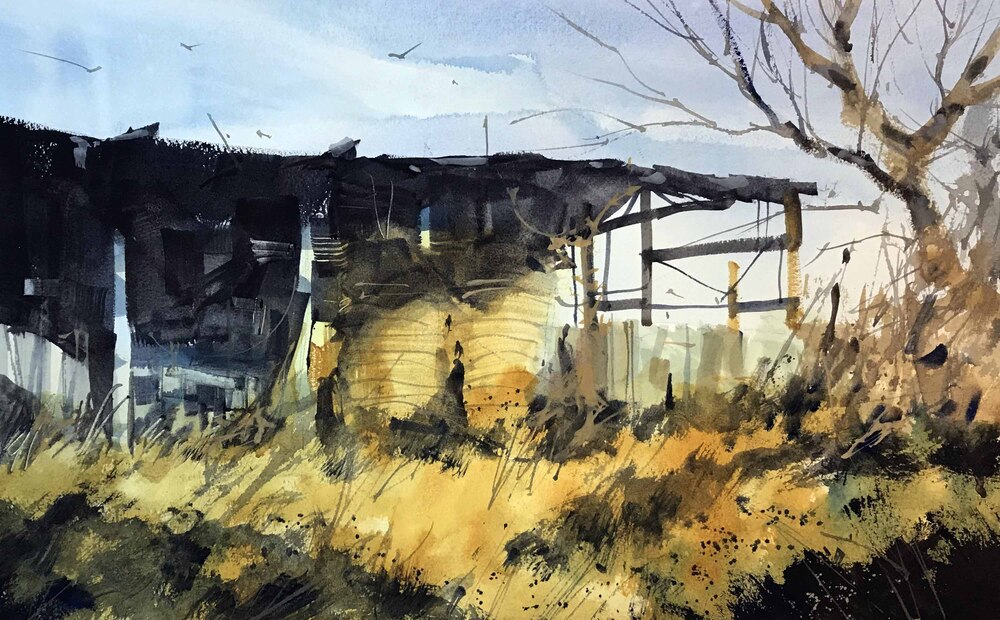 "Hay Shed," 22x29, Watercolor