East Arkansas Community College is now offering a Grab & Go bag snack program for students through the EACC Food Pantry.
The Grab & Go bags are filled with snacks and placed around campus for students to grab at their convenience. The only requirement is for students to show a valid student ID.
"We want to ensure that students have the necessary nutrition and stay alert and focused in their classes this fall," said Niki Jones, EACC Food Pantry committee representative.
"COVID-19 has taken away some of the ability to provide food service options on campus for students to eat between classes, which is why we are now offering the Grab & Go bag program for those students in need," said Jones.
One student recipient said, "As a full time student, I am dropped off on campus in the morning for classes and picked up in the afternoon when my classes are over. The Grab & Go bags are a huge support for students like me who do not have the opportunity to leave campus for lunch in between classes."
"I appreciate the effort put forth to make these available to students. I know other students will also take advantage of the snack bags," the student added.
EACC faculty and staff held a campus contest to kick start the contributions for the Grab & Go bag program. Department areas contributed snack items to be included in the bags, and over 8,500 individually packaged snacks were contributed by faculty and staff members. The Technical Instruction Center & Transportation Technology Center departmental area contributed the most items for the contest to win a "Comfy Day" at the office.
The Grab & Go bag program is funded through EACC's Food Pantry. Funding to establish the Food Pantry has been provided by the EACC Foundation and a Blue and You grant awarded by Arkansas Blue Cross Blue Shield.
If individuals, community groups, or businesses would like to contribute or volunteer to assist with the Grab & Go bag program, please contact Niki Jones, EACC's Director of Development by phone at 870-633-4480, ext. 352 or email njones@eacc.edu.
The TIC/TTC faculty and staff departmental areas donated the largest amount of individual snacks for the Grab & Go bags to win the Campus Contest.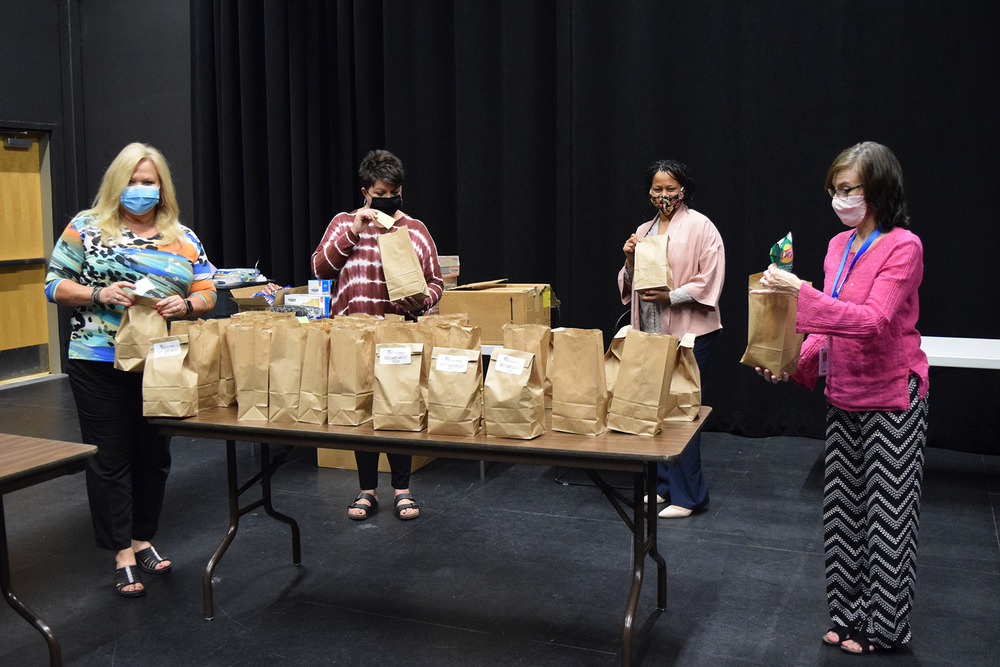 EACC Food Pantry committee members Shelly Laird, Niki Jones, Dr. Terri Moody, and Janet Brawner pack Grab & Go bags to be distributed to designated areas on campus for students.