The EACC Gallery presents Split Level, an exhibition by artist Dustyn Bork of Batesville. The exhibit will run through Friday, September 28th.
The Split Level exhibit includes a series of paintings in which traditional rectangle compositions are cut into shaped panels to more accurately reflect architectural forms in split-level. "For this exhibit, I am interested in the structures and design aesthetics of the 1970s," said artist Dustyn Bork. "Growing up in suburban Michigan, I have a fond remembrance of the styles, colors, design, shapes, and modernity of split-level homes and similar aesthetics," said Bork. "I want my viewers to make connections between the colors, lines, textures, and forms in my artwork and those used in this ubiquitous architectural style," he added.
Artist Dustyn Bork's intent through the Split Level exhibit is to depict an object-oriented and spatial quality. The colors, forms, and designs in the paintings portray his interest and research from architecture, interior design, color theory, and the history of abstractions. He used a palette of colors that conjure associations of the time period and cultural names including avocado green, harvest gold, and burnt orange. "I want my viewers to consider subjective interior design concepts of outdated, timeless, and retro contrasted with modern design elements of my work," said Bork. "Each composition is meant to represent the beauty and bewilderment implicit in everyday surfaces and structures," he added.
A native of Monroe, Michigan, Dustyn Bork earned his Bachelor of Fine Arts degree in Printmaking from the University of Michigan, and a Master of Fine Arts degree in Printmaking from Indiana University. He is currently an Associate Professor of Art at Lyon College in Batesville, Arkansas. In 2016, he won the prestigious Visual Arts Fellowship for Painting award from the Arkansas Arts Council. In addition, he has served on the board of directors for Number, Inc., an independent journal of the visual arts of the South, the Batesville Area Arts Council, and is currently a board member for the Ozark Foothills FilmFest.
Bork's work has been exhibited in numerous regional, national, and international exhibitions. He has participated in artist residencies including the Franz Masereel Centre in Kasterlee, Belgium, the MIRA residency in Martignano, Italy, Wilson College, and the Vermont Studio Center. Recent solo exhibitions include Arkansas State University, Hendrix College, Material Art Space in Memphis, the Thea Foundation in Little Rock, University of Memphis' Art Museum, and Coe College in Cedar Rapids, Iowa. His work can be also be viewed at the Justus Gallery in Hot Springs and online at www.dustynbork.com.
The EACC Gallery is located in the Fine Arts Center on campus in Forrest City. Daily hours for the Gallery are Monday-Thursday from 10:00 a.m. until 4:00 p.m. and Fridays from 10:00 a.m. until 12:00 p.m., or as scheduled for special group tours. There is no charge for admission.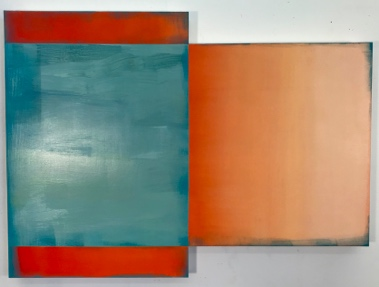 "Split Level No. 4," Acrylic on shaped panel