The EACC Gallery presents Collections, an exhibition of artwork by Alonzo Ford of Lexa. The exhibit will run through Friday, March 2nd. The public is invited to meet the artist in the Gallery on Saturday, February 17th at 6:30 p.m. before the Shirelles performance in the EACC Fine Arts Center.
Artist Alonzo Ford's artwork is rooted in his heritage as an African-American farmer in the Arkansas Delta. He grew up working on his family's farm in the Southland community near Lexa in the 1940s and 1950s. He enjoys creating and drawing landscapes that portray farm life, old buildings, and active portraits. His drawings depict daily routines of plowing, harvesting hay, and cutting wood, and he is best known for his distinctive profile drawings of his memories of local people.
Ford began painting in 1981. Largely self-taught, he attended Phillips Community College from 1981-1982 where took art classes and began sketching portraits and abstract drawings. He chose art as a way to express himself and to leave something behind for others to enjoy. Ford's artwork includes graphite and charcoal drawings, as well as oil and oil pastel paintings, and pen and ink. In addition to drawing and painting, Ford also enjoys growing his beautiful flower and vegetable garden during the Spring and Summer months. He cultivates irises, roses, lilies, hollyhocks, zinnias, and sunflowers in the fields of his family farm, which often appear in his paintings.
Ford's artwork has been featured in numerous exhibits, shows, and collections throughout the Delta, Arkansas and across the United States including the West Helena Public Library, Phillips County Museum, Fine Arts Center of Hot Springs, Delta Cultural Center and other museums in Little Rock, the Arts and Science Center for Southeast Arkansas, the Collectors Art Gallery in Washington D.C., and more. He is a member of the Art Collectors at the Arkansas Arts Center, and was recognized as the University of Arkansas Phillips Community College's Outstanding Alumnus.
The Gallery is located in the EACC Fine Arts Center. Daily hours for the Gallery are Monday-Thursday from 10:00 a.m. until 4:00 p.m. and Fridays from 10:00 a.m. until 12:00 p.m., or as scheduled for special group tours. There is no charge for admission. For more information, call 870-633-4480.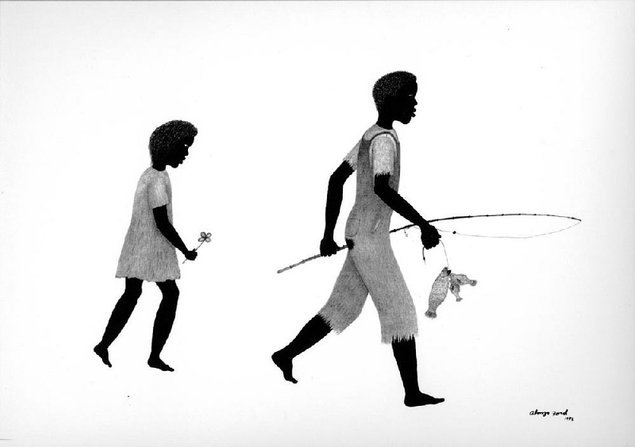 "Big Catch," 18" X 24", charcoal and graphite pencil