Final preparations are underway for this weekend's Arkansas Symphony Orchestra Home for the Holidays performance at East Arkansas Community College's Fine Arts Center on Saturday, December 2nd at 7:30 p.m.
Special guest artists have been announced for the upcoming performance. Kelly Singer, soprano, Kiril Laskarov, electric violin, and the Praeclara Vocal Company will join the Arkansas Symphony Orchestra for their holiday performance.
Kelly Singer is a native of Little Rock and will make her Arkansas Symphony Orchestra performance debut this season. Winner of the 2016 and 2017 Arkansas District Metropolitan Opera National Council auditions, she recently performed with the University City Symphony Orchestra, the Cherokee Symphony Orchestra, and has also performed at the Salzburg Voice Festival in Austria. Kelly Singer is currently pursuing a Master's degree at the Manhattan School of Music in New York City. Singer's upcoming roles include Flora in Britten's The Turn of the Screw. Her most recent work includes Constance in Poulen's The Dialogues of the Carmelites with Harrower Opera in Atlanta and Mabel in Gilbert & Sullivan's The Pirates of Penzance with the Praeclara Performing Arts Company.
Kiril Laskarov, violinist, is currently in his nineteenth season as Concertmaster of the Arkansas Symphony Orchestra. A native of Bulgaria, he received a Bachelor of Arts degree from State Academy of Music in Sofia and a Master's degree from Southern Illinois University at Carbondale. Laskarov has appeared as a soloist with the Arkansas Symphony, Las Vegas Philharmonic, Southern Illinois Symphony, Abilene (Texas) Philharmonic, Symphony Irvine (California), and the Texarkana (Texas) Symphony. He has also appeared as a guest concertmaster with the Monroe (Louisiana) Symphony and the McCall (Indiana) Festival Orchestra.
The Praeclara Vocal Company is an ensemble of professional vocalists founded in 2014 by Praeclara artistic director, Bevan Keating. The company performs a diverse repertoire ranging from classical oratorios to opera and musical theater. Members are renowned for their technical excellence as musicians and for their expressive stage presence. Praeclara Vocal Company has presented productions of Handel's Messiah, Mozart's Requiem, as well as renditions of The Music Man, The Pirates of Penzance, and Annie: The Musical. In April, Praeclara will present Sondheim's Into the Woods and Mendelssohn's oratorio Elijah.
Experience the magic of the holiday season with the Arkansas Symphony Orchestra's Home for the Holidays performance. No matter the weather, this favorite holiday concert will bring back some of the coziest and most-loved melodies of the season. Kids and adults aged one to one hundred will thrill in a musical celebration extravaganza of the most wonderful time of the year.
Beginning its 52nd season in 2017-2018, the Arkansas Symphony Orchestra is one of Arkansas' most dynamic performing organizations. Under the direction of Music Director Philip Mann, the yuletide concert will feature a festive mix of traditional classics as well as classical, religious and secular selections. Hailed by the BBC as a "Talent to watch out for, who conveys a mature command of his forces," American conductor Philip Mann is gaining a worldwide reputation as an "expressively graceful yet passionate" artist. Incorporated in 1966, the resident orchestra of Robinson Center Music Hall in Little Rock, and comprised of the state's most sought after professional musicians, the Arkansas Symphony Orchestra performs for more than 165,000 Arkansans each year.
Tickets for Arkansas Symphony Orchestra's Home for the Holidays performance are $25 and may be purchased online at www.eacc.edu, by calling 870-633-4480, ext. 352, or in person at the Fine Arts Center Ticket Office. The EACC Fine Arts Center is located at 1700 Newcastle Road in Forrest City, just off of Interstate 40.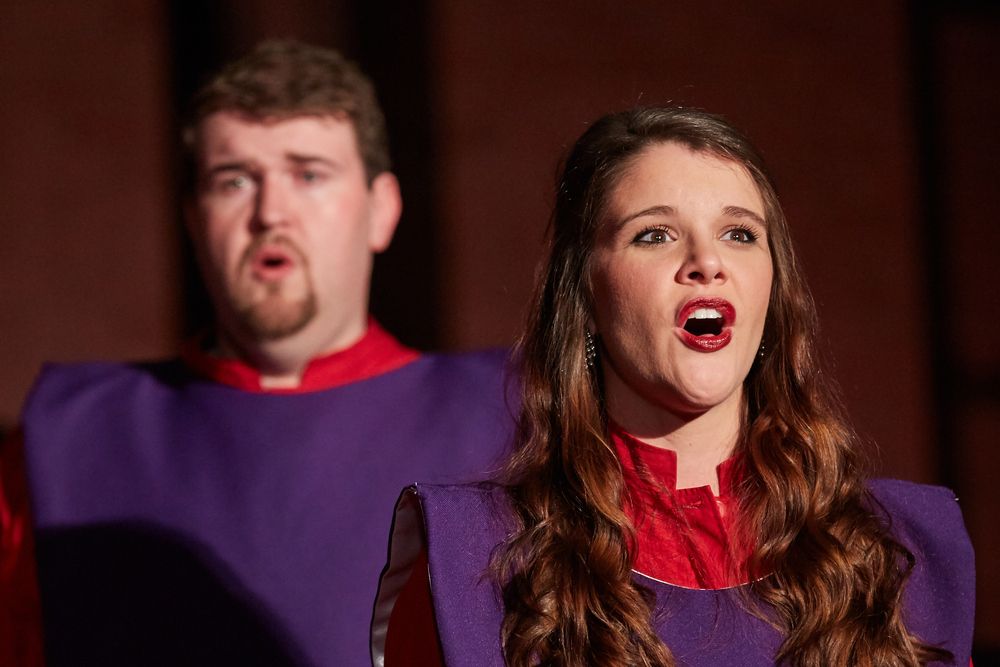 Praclara Vocal Company members Shea Williamson and Kevin Ezzell