The East Arkansas Community College Gallery in Forrest City presents Atmospheric Abstracts, an exhibit by artist Jaquita Phillips Ball of Bentonville. The exhibit begins on Monday, November 13th and will run through Friday, December 15th.
Artist Jaquita Phillips Ball studied art at the University of Arkansas, earning a Bachelor of Arts degree in Studio Art and Journalism. She also completed a degree in Gallery Management in Santa Fe, New Mexico. Ball spent a large portion of her life as a senior executive in graphic arts, advertising, marketing and public relations, and non-profit foundation management, while still maintaining a career as an artist.
Proficient in landscape, figure and portrait subjects, plus wild and domesticated creatures, Jaquita Ball utilizes traditional painting techniques in a decidedly contemporary, abstract, or fauvist style. While her subject matter remains timeless, she favors dramatic and yet intimate compositions. Currently, Ball is settled into Bentonville with the Red Cat Art downtown art studio and has narrowed her business clientele for marketing services to visual arts, while also serving as Gallery Director of the Gallery at Midtown Associates in downtown Bentonville, Art Curator and Instructor for I'Mindful Studio, and licensing her art through HOWSE.
Jaquita worked several years as a news and courtroom artist, reporter/news writer and assistant promotion manager at KARK-TV in Little Rock, where she earned a national reputation when many of her court sketches of high profile cases aired nationally on NBC Nightly News. In most recent years, in addition to her fine art and marketing career, she has served as a curator, juror and art critic for exhibitions in New Mexico and Arkansas. She organizes exhibitions for artists, and provides curating and advising for clients such as the Gallery at Midtown Associates-Bentonville, I'Mindful Studio-Bentonville, NuArt Gallery of Santa Fe, Zephyr Blevins Gallery in RLT-Rogers, The Art Gallery and many more.
Her artwork has been featured in numerous exhibits, shows and collections throughout Arkansas and other states, including Little Rock's Statehouse Convention Center, Illinois River Watershed Education Center, Walton Arts Center, Bauer Gallery, Fort Smith Arts Center, Eureka Springs Fall Show, Jones Center Art Show, and many more. She has also been the recipient of numerous creative awards from the American Advertising Federation, Public Relations Society of America (PRSA), International Association of Business Communicators (IABC), and other industry specific awards in hospital and non-profit advertising.
The Gallery is located in the EACC Fine Arts Center. Daily hours for the Gallery are Monday-Thursday from 10:00 a.m. until 4:00 p.m. and Fridays from 10:00 a.m. until 12:00 p.m., or as scheduled for special group tours. There is no charge for admission. For more information, call 870-633-4480, ext. 352.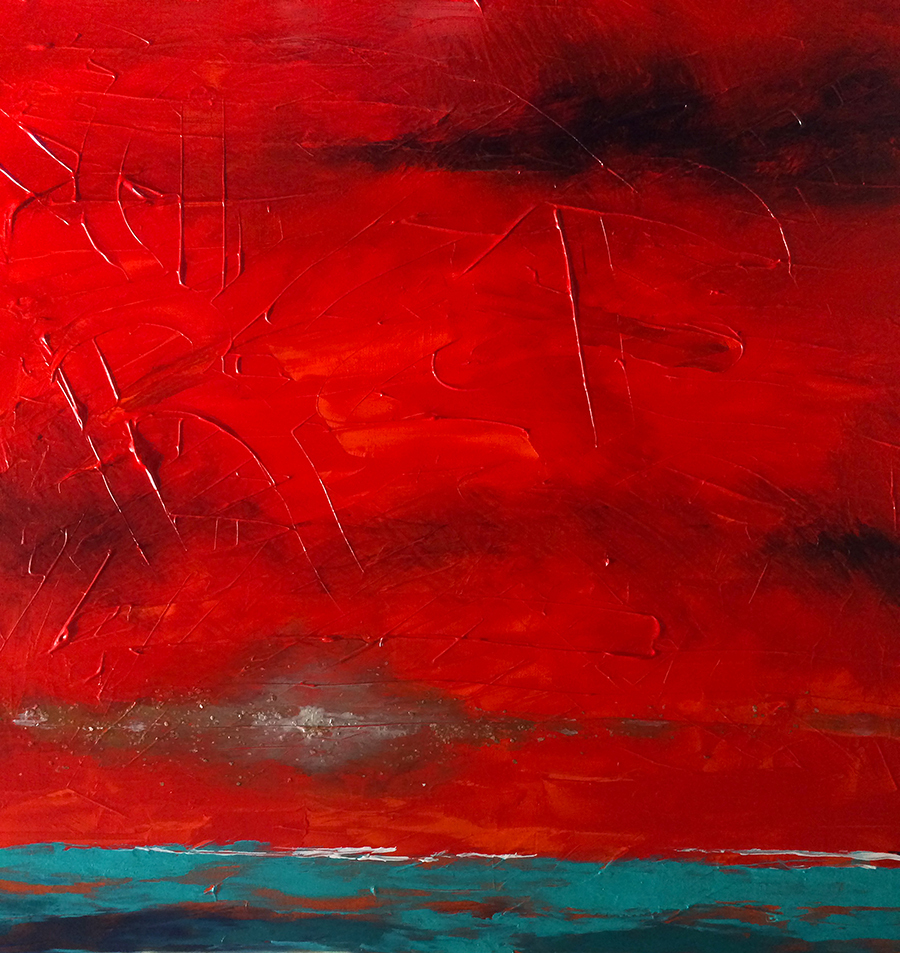 "Red Sky Warning," 24" X 24", Acrylic